Anita became a falconer over 30 years ago while she was forming a non-profit education company, Zoo To You. She is also Samantha's mom, so ditto.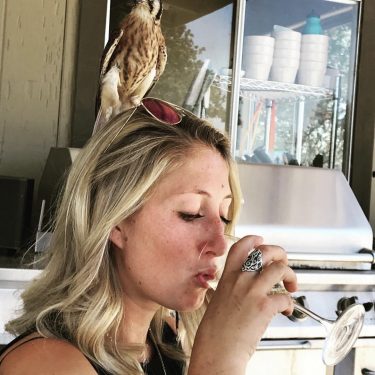 It is no surprise that Samantha has a profound connection to animals and a strong passion for conservation. Before she was born, her parents started a non-profit exotic animal rescue sanctuary called Zoo to You. She was raised with lions and tigers and bears and of course raptors too! She began going out in the field with her mom around age 6 to hunt rabbits with Harris hawks. At age 12, Samantha traveled to Africa the first time with her parents and life-long mentor Jungle Jack Hanna to assist in the preservation of the mountain gorillas in Rwanda. 
Having been surrounded by wildlife education and conservation for her entire life, carrying on the family legacy came naturally for her. She has appeared on over 60 different TV shows including Jack Hanna's Into the Wild, David Letterman, and many other national and local programs in a continued effort to spread the message of conservation. 
As the Director of Community Outreach at Zoo To You and Co-founder of The Falconry Experience, Samantha works hard to connect and inspire everyone she meets to fall in love, respect and conserve wildlife.